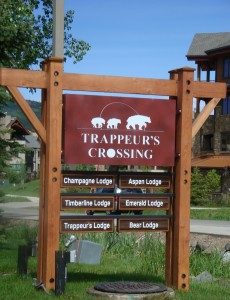 Trappeurs Crossing in Steamboat is a resort with six buildings which all share a common owners area, shuttle service, and management. The different lodges at Trappeurs include the original Trappeurs, Timberline, Champagne, Aspen, Emerald and Bear Lodges. In 2017, most sales were in the older (lower priced) buildings.
The residences that sell in Trappeurs vary year to year. Bear Lodge sold well a couple of years ago when developers still held inventory and were willing to be aggressive with their pricing, although only one residence sold so far in 2017.
Call us at (970) 846-8284 to learn more about Trappeurs, or click here to see what condos are currently available.
| | | | | |
| --- | --- | --- | --- | --- |
| Trappeurs Crossing Condo Unit | BR | Asking Price | Sold Price | Closing Date |
| Unit 4201, Aspen Lodge at Trappeurs Crossing Condos | 3+ | $659,000 | $635,000 | 5/10/2017 |
| Unit 2206, Timberline at Trappeurs Crossing | 2+ | $425,000 | $410,000 | 2/14/2017 |
| Unit 4302, Aspen Lodge at Trappeur's Crossing | 4 | $769,000 | $736,000 | 3/8/2017 |
| Unit 4205, Aspen Lodge at Trappeur's Crossing Condos | 4 | $674,000 | $658,500 | 6/5/2017 |
| Unit 6303 Bear Lodge at Trappeurs Crossing Condos | 4 | $975,000 | $927,500 | 2/24/2017 |
| UNIT 1302 TRAPPEUR'S CROSSING CONDO | 4 | $475,000 | $469,900 | 5/31/2017 |
| UNIT 1104 TRAPPEUR'S CROSSING CONDO | 2 | $315,000 | $310,000 | 6/16/2017 |
| Unit 2304, Timberline at Trappeur's Crossing | 2 | $400,000 | $389,000 | 4/3/2017 |
| UNIT 3104, CHAMPAGNE LODGE AT TRAPPERS CROSSING | 2 | $399,999 | $400,000 | 4/20/2017 |
| Unit 1305 Trappeurs Crossing Condo | 4 | $450,000 | $435,000 | 5/19/2017 |