Trappeurs Crossing is a popular development in Steamboat Springs with six separate buildings that appeal to all tastes and all pocket books. In fact, it was rated in the top 1% of the world's best hotels by Expedia. People like staying here.
Trappeurs is only two blocks from the ski area and a short walk to the Wild Plum market, restaurants, and Gondola Square.
Trappeurs Crossing Amenities: You'll find multiple outdoor pools and hot tubs, tennis courts, fitness, concierge, underground parking, and shuttle service. Whether you are staying at the original Trappeurs Crossing or luxurious Bear Lodge, you have access to all the amenities at all the Trappeurs Crossing lodges.
Search all available condos for sale at Trappeurs Crossing
Scroll down for different Lodge descriptions, or click below for more details:
Trappeurs Crossing is the original building
in the development
.
Completed in 1983, Trappeurs Crossing has 2, 3, and 4 bedroom condos. Some of the larger floorplans have two levels of living space. Most of the condos currently for sale have been remodeled with granite countertops and new kitchen cabinets.
Prices range from around $350,000-$500,000.
Timberline Lodge at Trappeurs Crossing was completed in 1999 and has mainly 1 and 2 bedroom condos with a few of 4 bedroom units. Prices range from $400,000-$600,000.
Champagne Lodge at Trappeurs opened in 2001 with more luxurious finishes like granite countertops and rock fireplaces. You can purchase a two bedroom condo in Champagne Lodge for around $500,000, or a four bedroom Champagne Lodge residence for under $800,000.
Aspen Lodge at Trappeurs began a new focus on luxury and a new concept–private patios with private hot tub, fire pits and barbeque grills off of some of the ground floor units. When they were completed in 2006, Aspen Lodge was one of the first condo complexes in Steamboat to have central air conditioning, and there was a noticeable step up in finishes including granite, heated towel bars in the baths and stainless steel appliances. Owners also get a large storage closet in the garage and two ski lockers. Prices at Aspen Lodge start around $500,000.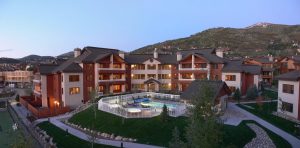 Emerald Lodge at Trappeurs has 3, 4, and 5 bedroom condominiums with open floor plans and vaulted ceilings on the top floor. Emerald Lodge raised the bar once again with radiant floor heat, frameless showers, and granite and stainless. The patio units tend to rent better and command higher rental averages than Emerald Lodge condos without private patios. Prices at Emerald range from $865,000-$1,000,000+ .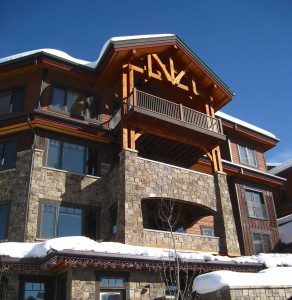 Bear Lodge at Trappeurs Crossing was completed in 2009 and is the final phase in the Trappeurs Crossing Complex. Bear Lodge is the most luxurious of the six buildings and has refined the patio units to include gas fireplaces, hot tubs, and grills. Bear Lodge has 3, 4, and 5 bedroom condos from $800,000-$1,700,000.

Please contact us to find out which of the Trappeurs Crossing lodges is right for you and your family and friends.